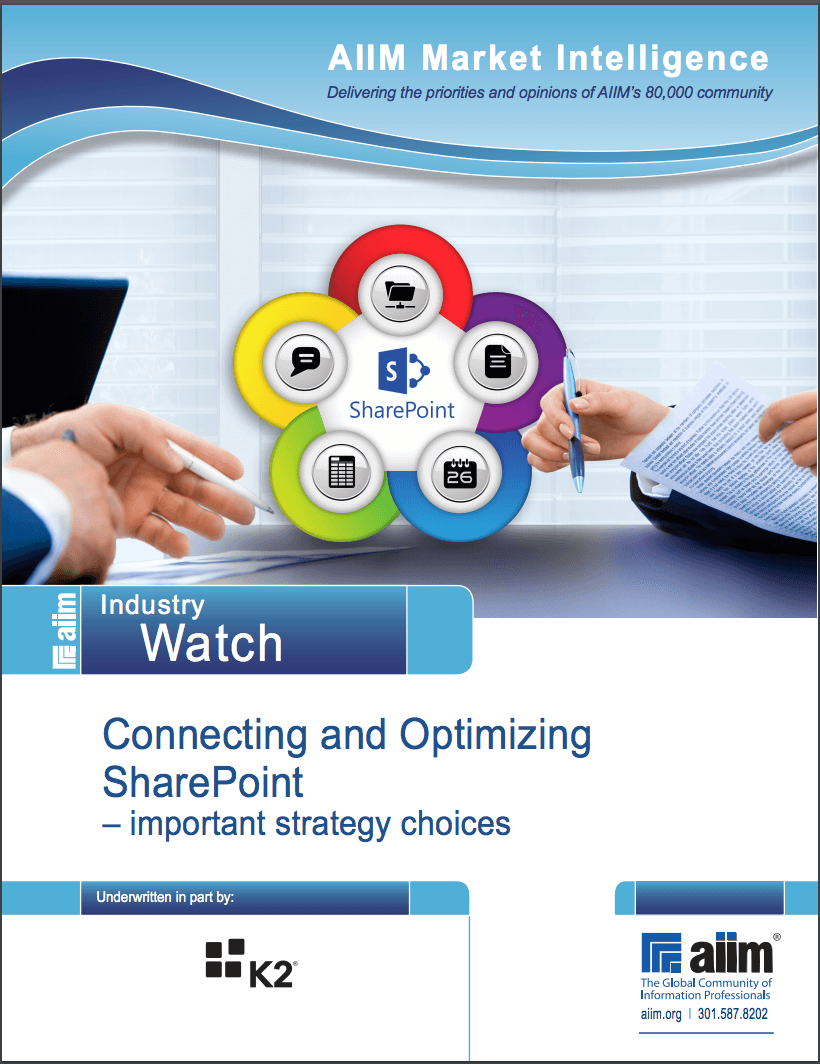 Third-Party Solutions Can Optimize Your SharePoint Online Apps


If you're struggling to maximize your SharePoint investment, you're not alone. The AIIM Report Optimizing and Connecting SharePoint states that "63 percent of SharePoint deployments are stalled or struggling to meet expectations." Despite the shortcomings, however, 75 percent of their respondents were committed to SharePoint.
The solution then, for many, is deploying third-party enhancements to maximize their SharePoint investment. According to the AIIM report, the top enhancements already in use or that companies are planning to implement are:
Workflow and BPM
Metadata/taxonomy management
Search and security enhancements
Mobile access
Optimizing SharePoint with K2
K2 is a third-party solution that integrates seamlessly with your SharePoint Online environment. This cloud-based service offers your people all the tools they need to rapidly build SharePoint Online apps that include workflow, forms and data integration.
As a low-code technology leader, K2 takes the complexity out of SharePoint tasks and gives your people the power to build SharePoint Online apps without having to write code. 
You can also:
Build digital forms to collect and display information in SharePoint
Integrate data from your various line-of-business (LOB) systems and web services
Use a centralized list to access all the tasks and work in all your K2 apps
Generate reports and dashboards to improve decision making
How K2 saves time
If your organization plans to transform slow, outdated and error-prone manual tasks into automated business processes, K2 can help you to achieve this goal swiftly and at scale. 
Using drag and drop visual designers, your people can select the functions and components they want in their apps, and quickly build the solutions they need. In this way, your employees can develop business process management (BPM) solutions and workflows themselves, or with only a little help from your I.T. function.
According to AIIM's research guru, Doug Miles, one of the ways that your organization can get more from SharePoint is to let business units, rather than I.T., drive its use. K2's low-code approach and wizard-driven interfaces help you to achieve this goal. 
K2 enables users from multiple business lines to build their own SharePoint Online apps and other solutions outside of the SharePoint environment. This reduces your heavy reliance on I.T. and helps you to clear any backlogs that may have been slowing down your organization's digital transformation. Another benefit is that your apps will most likely be better accepted and successfully used by your business units because the people who are using these apps helped to design them. 
Whether your people are building SharePoint Online apps or a complete workflow solution that reaches from your back office right along with your supply chain, K2 technology keeps your processes efficient and error-free through user-friendly business process automation (BPA). 
Find out more about this innovative approach 
If you're interested in learning more about how organizations are optimizing their SharePoint Online investment and incorporating apps that enhance it, then download the complimentary report now.